*20 Person Minimum for Catering
One Lunch Entrée – $9 per Person
One Dinner Entrée – $11 per Person
Additional Entrée – $4 per Person
Beef Brisket – Additional $1.00 per Person
Includes choice of entrée, 2 side fixins, rolls with butter and choice of dessert. All of our BBQ Fixins Entrées will be smoked and served with BBQ sauce on the side. A carving station is available for our meat items.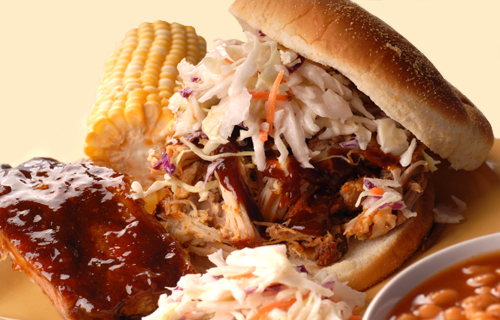 Main Fixins
————————————————————————————————–
Smoked Pork Loin
Smoked Iowa Chop
Pulled Pork
Pulled Chicken
Marinated Chicken Breast
Tender Baby Back Ribs
Smoked Pork Prime Rib
Tri-Tip
Beef Brisket – Additional $1.00 per Person
Side Fixins
————————————————————————————————–
Mixed Green Salad with Two Dressings
Cowboy Beans
Country Fried Potatoes and Onions
Augratin Potatoes
Fried Corn
Country Potato Salad
Hawaiian Slaw
Creamy Country Slaw
Marinated Veggie Salad
Fresh Fruit Salad
Honey Glazed Cornbread Muffins